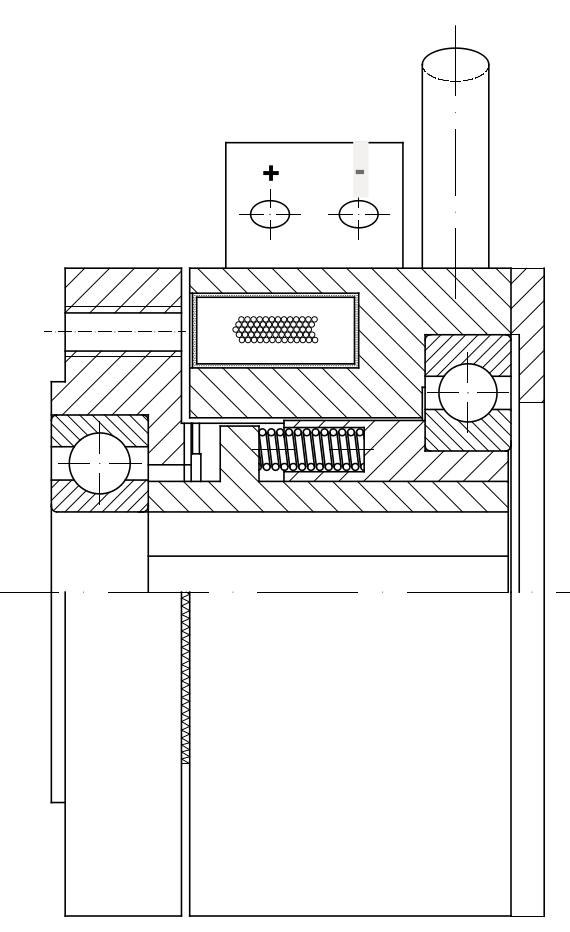 Clutch for positive torque transmission between shaft and bearing mounted gear part.
For oil and dry operation, coil voltage 24 V DC
With point shaped backlash-free tooth profile.
Torque range: 3,2 - 50 Nm
For engagement under limited relative speed.
Version 1 - tooth angle 55° for disengagement under torque load.
Version 2 - tooth angle 35° for higher torque transmission, if disengagement without torque load
Suited for horizontal and vertical mounting.
Small tooth clutch for positive torque transmission by two face gears, for operating mechanism and precise mechanical equipments.
The torque connection is effected by the hardened face teeth with point-shaped profile and the yaws of the clutch hub guidance. When the clutch is electrically switched off, the toothed armature body carrying the magnet body is retained in disengaged position by release springs.
Engagement at stand still or engagement speed according to table.